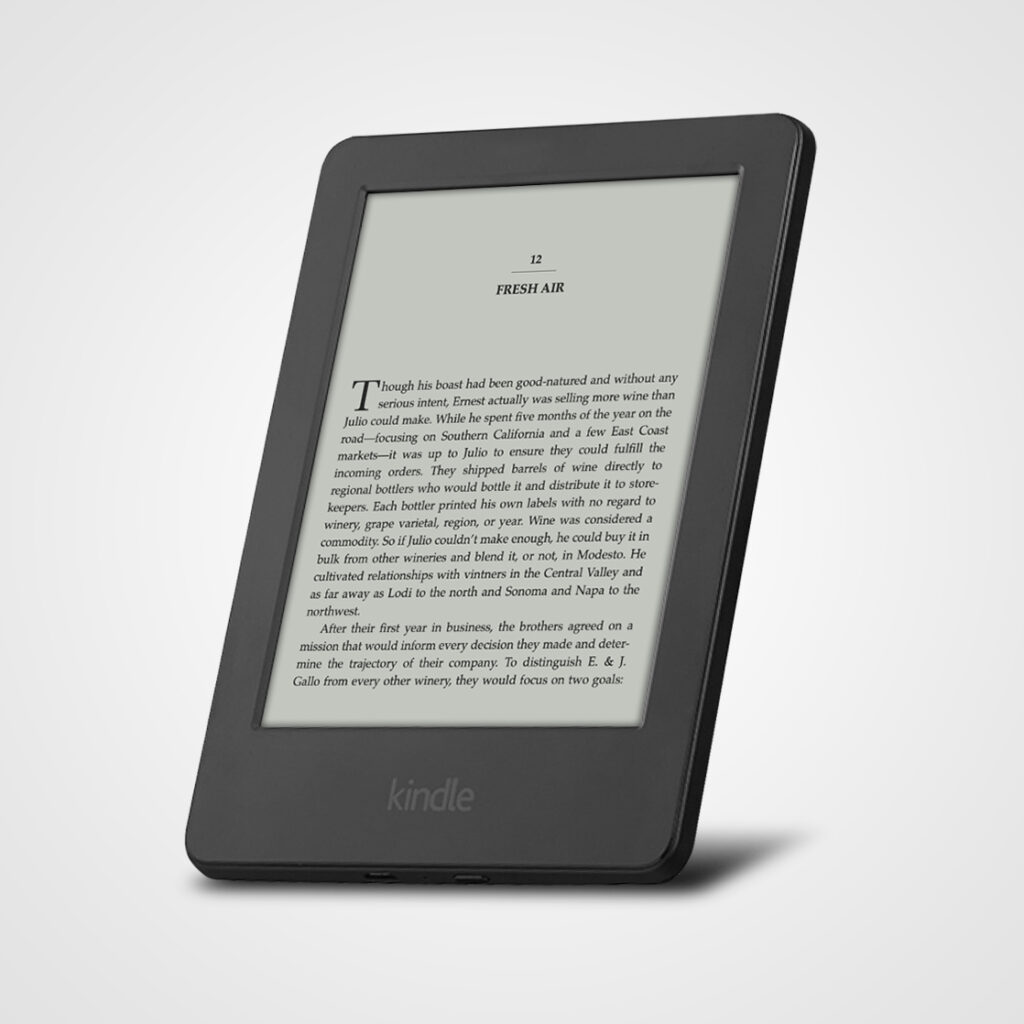 eBooks
When Amazon first released the Kindle in 2007, it came with a $399 price tag (at this writing, $550 with inflation and rising fast!). Last Black Friday they were $60. The books themselves can often be found for 99¢ and less. But now you don't even need a dedicated e-reader; phones and tablets offer a convenient and comparable alternative.
As an author, it behooves you to publish an ebook. Hopefully in addition to print. Either way, your manuscript should be professionally edited and your cover should pop.
When I first started in this business I opened accounts at multiple eBook sellers: KDP/Amazon, Apple, Barnes & Noble, etc. Creating the accounts and uploading the books was time-consuming, but I thought it was worthwhile. However, tracking all the separate sales and royalty reports was definitely a hassle. Now I publish with KDP/Amazon (because they're the 800-pound gorilla) and Draft2Digital, an aggregator who takes a small cut and distributes to dozens of platforms, including subscription services and libraries.
Another option is to publish exclusively with KDP/Amazon as they offer financial incentives when you do.
But the best thing about publishing in eBook format is the royalties. With no printing costs, you reap greater profits and have the flexibility to offer occasional sales and specials.
Below is a brief outline of the process and the steps I will manage (much of this is the same as publishing in print, so feel free to skim.
taking care of business
I am not a lawyer. But it is my understanding that your work falls under copyright protection whether or not you file a claim with the copyright office. It's ultimately up to you.
You don't need them for eBooks.
design
Will your book have a dedication, foreword, acknowledgments, biography, author photo? For eBooks, I recommend putting these elements at the back of book. This helps shoppers get a deeper "look inside" your book.
You'll need something alluring for your book's sales page and the back of the jacket. This is your elevator pitch. It can make or break a sale.
Not much of a consideration in eBooks. Unlike in print, the reader controls the experience by selecting font and font size. Also, unless you read on a device you may not realize that eBooks don't have page numbers.
An advantage eBooks have over print is linking. Readers can click on your website, Facebook page, or directly to your book's Amazon page where they can leave a review or buy your other books.
It's a good idea to have the front cover as early in the process as possible, but the final jacket can't be finished until the interior layout is done. Hot tip: Make sure the design looks good as a thumbnail. This is how many buyers will see your cover—not the size of your computer screen.
formatting and distribution
eBooks need to be formatted as .epub files.
You have the option of joining KDP Select and publishing your eBook exclusively with Amazon. In addition to regular sales, your book will be available to Kindle Unlimited subscribers. You receive a share of the sum generated by all participating books that month. Enrolling in KDP Select also opens up special promotional discounts and opportunities.
Draft2Digital has a great interface and they go out of their way to make everything as user-friendly and easy as possible.
then what?
Both KDP and Draft2Digital will send you monthly sales and payment details. You can also log into your accounts at any time.
Need more information? You can send me a message here: